26 7月

(3,000T/Y-20,000T/Y) PP Fiber One-Step Production Line

Polypropylene staple fiber is used to manufacture Air Filter, Water filter and other industrial fabric, It is also used for woven carpets, non-woven carpets, upholstery, carpet backing etc. 

Polypropylene staple fibers offers superior feature due to its lowest specific gravity resulting into better relative coverage, high dimensional stability, excellent recovery properties namely elasticity and resiliency, low thermal conductivity, lowest static charge and its inertness to chemicals. 

The denier range of PP Fiber manufactured is 1.5D to 15Denier.
Process of PP One Step Fiber Production Line
Polypropylene fiber is manufactured from isotactic polypropylene chips by melt spinning process. In this process molten polymer from a manifold is metered through various spinnerets, having number of holes to form filaments. These filaments/fibers are then solidified by air/water quenching and after application of spin finish are directly to draw line part in one step process. The fiber is stretched several times in a chemical hot bath, relaxed and crimped to be made suitable for various spinning systems.
Specifications of Virgin Polypropylene Staple Fiber
Deniers: 1.5D to 70 Denier 
Cut length: 25,32,51,64,76,102 and 124 mm (as per customer requirement)
Tensile strength: >3.5gm/Denier 
Elongation: >70% 
Crimps: 3 to 5 per cm 
Shades: All shades available
Applications of Virgin Polypropylene Staple Fiber
Spinning Yarns, Filter Fabrics, GeoTextile, Auto-mobiles floor carpet, thermal bonded fabrics, insulations, carpet, and non-woven carpet, building construction, RCC
Polypropylene staple fiber is also available in short cut length for RCC building construction and making cement sheets, tiles and pipes. This enhances strength of the cement/RCC. Fiber Reinforced Concrete (FRC) is Portland cement concrete reinforced with thousands of small fibers more or less randomly distributed during mixing and thus improve concrete properties in all directions. Polypropylene fibers of 0.5% to 1% are normally used in concrete. Natural white polypropylene fibers of 3 and 6 Deniers and in lengths of 6, 12 and 20mm respectively are commonly used in various applications.
Case: 20TPD PP one step fiber production line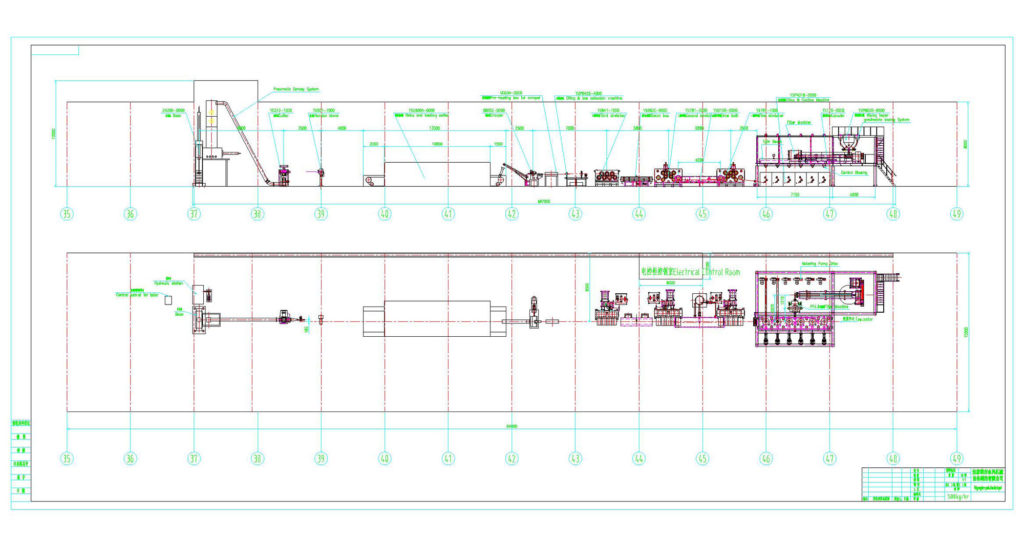 Main Machines of PP One Step Fiber Production Line
In spinning line, PP virgin chips are heated and dried, then melted and spun into tows.
1. Extruder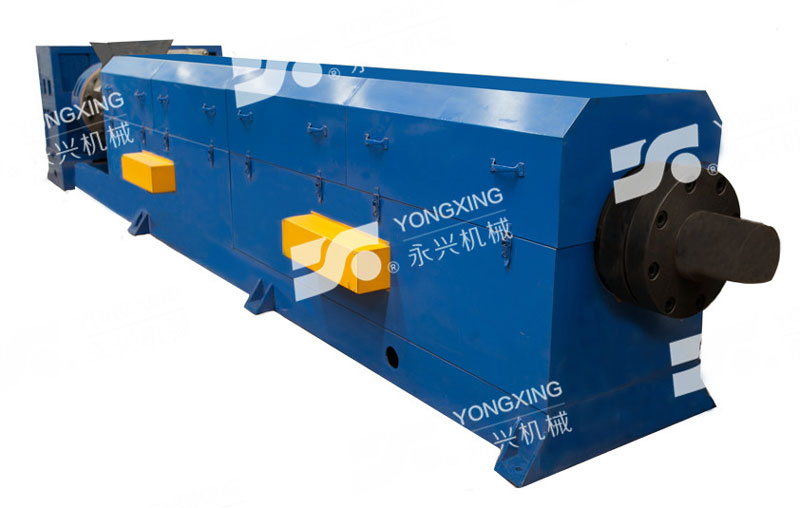 PP chips are fed into screw extruder by meaning of melted, mixing and filtering from hopper after being heated and dried.
Specification: φ160,φ179,φ180,φ190,φ220
2. Filter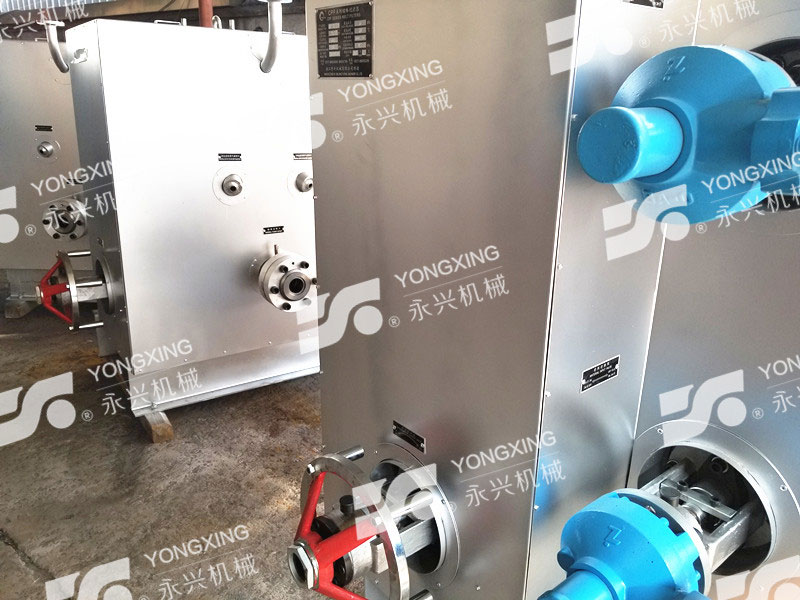 The melted PP will go through filter to remove the impurity.
Type: vertical, 2 groups of filtrating chambers, exchanging filtrating barrel continuously;
Heating Power: 15kw;
Heating Media: Thermal oil. Melt inlet pipe increase static mixer, inner of melt pipe is polished. Melt pipe and spin beam is connected by flange.
Control: Use pressure≥25MPa, inlet pressure electronic indication, and automatic control. Indication precision: 0.1MPa. Self-control precision: 0.3MPa.
3. Spin beam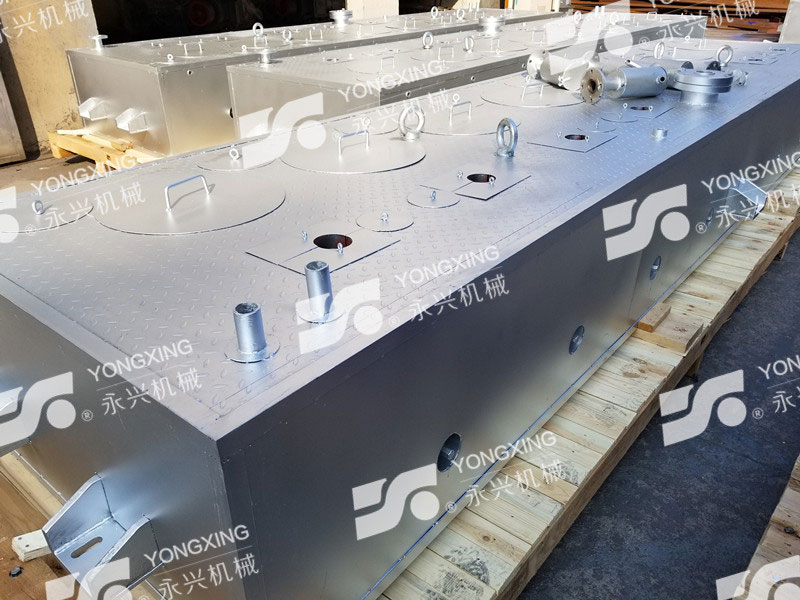 The melt goes into spin beam in which specially-designed distribution piping system guarantees same dwell time and same pressure drop for the melt to reach each spinning position.
Distance between two adjacent positions: 1100mm
Installation of Spinneret: Install from below, dolly type spinneret installation bed
Heating Method: Dowtherm oil
Heating Power: 30KW
Composition of Spinning Part: Spin beam, distribution plate, spinneret, filter net;
4. Central Blowing
Central Blowing consists of: Blower, soft pipe, air transportation pipe, central blowing head.
Working Process: the certain temperature cold air from the AHU is blown by the frequency controlled blower to meet the blowing speed requirement of central blowing. The air goes through the central blowing to cool down fiber tow.
5. Winder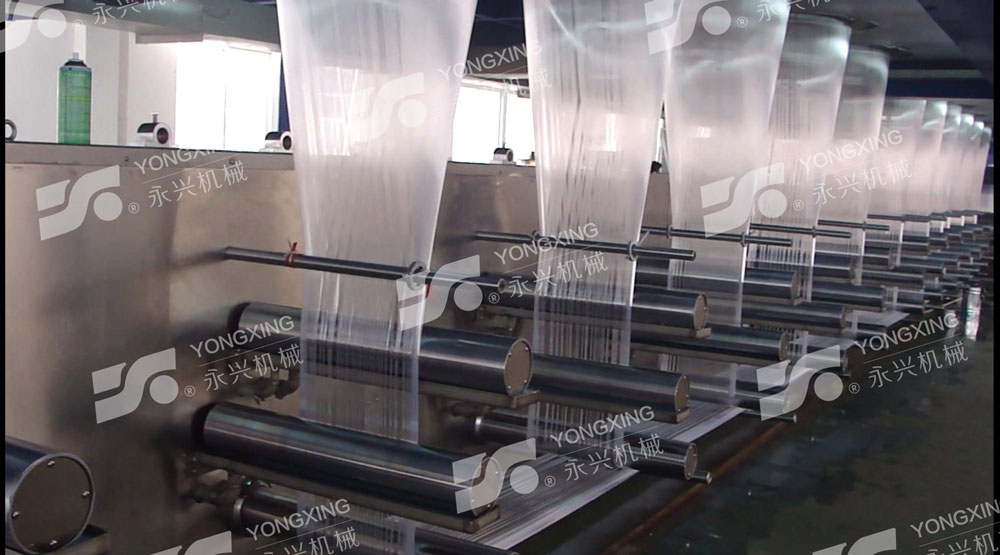 The cooled and solidified filaments are oiled and damped by oiling device to increase the cohesion of the yarn, to improve the antistatic property of the yarn, to reduce the friction between the yarn and the yarn, and also to reduce the friction between the yarn and equipment, and to improve the after-treatment property of the yarn.
6. Stretcher
The range uses 2-stage drawing technology. The first drawing stage carries out between the first stretcher and the second stretcher. The temperature of Draw bath is about 60℃~80℃. The draft ratio of the first drawing stage is completed 80%~85%.
The second drawing stage carries in Steam box chest between the second stretcher and the third stretcher. The draft ratio of the second drawing stage is completed 15%-20%.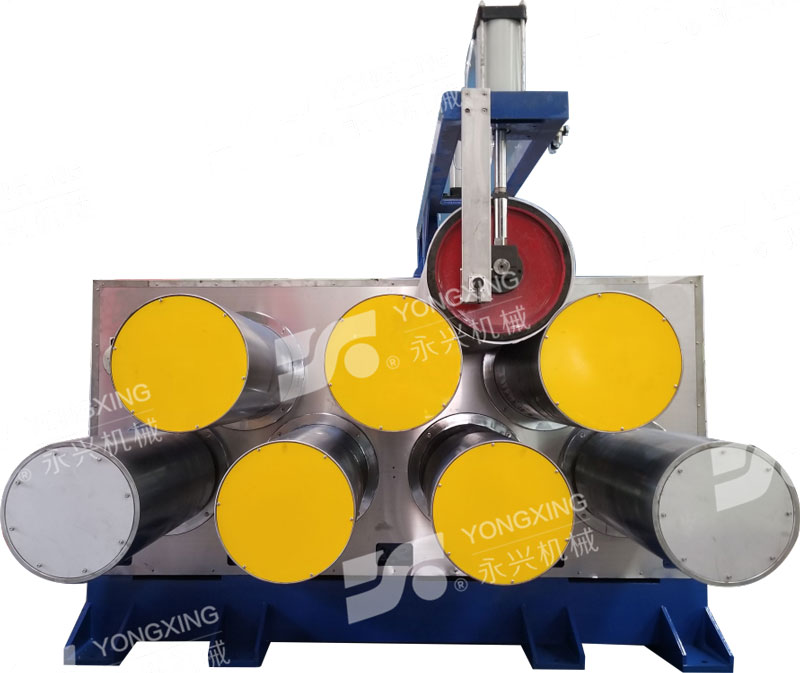 7. Stacker&Crimper
After cooled and oiled, the tow sheets are sent into Tow stacker, 2 or 3 tow sheets are stacked into 1 tow sheet. The tilt angle of stacking rollers is adjustable for achieving stacking process. The width of the tow sheet and the quality of stacking is special important for crimping.
After stacking, the tow sheet is sent into Crimper through Tension control roller and Steam pre-heating box. The tow sheet is crimped through squeezing to assure the good performances of fiber in later process.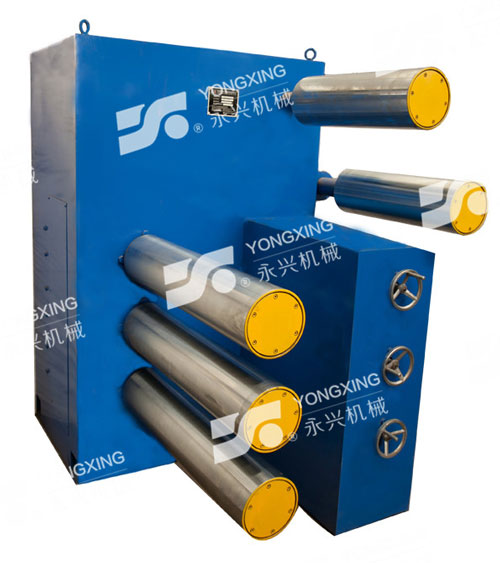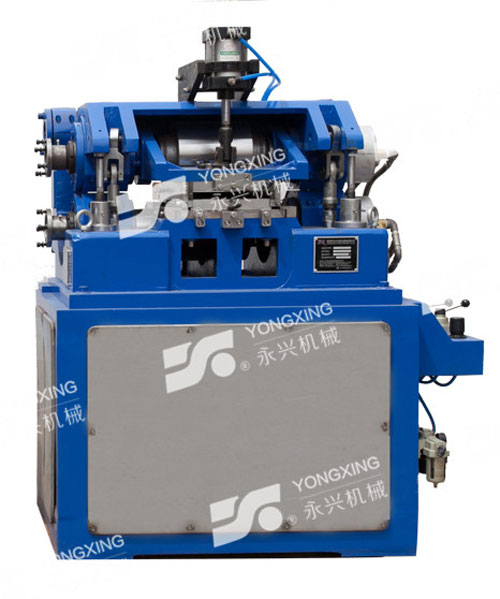 8. Relax and heating Setter
After crimping, the tows spread to chain board type conveying of Relaxing dryer. The tows are dried evenly by blowing of forced air and then cooled down below glass temperature.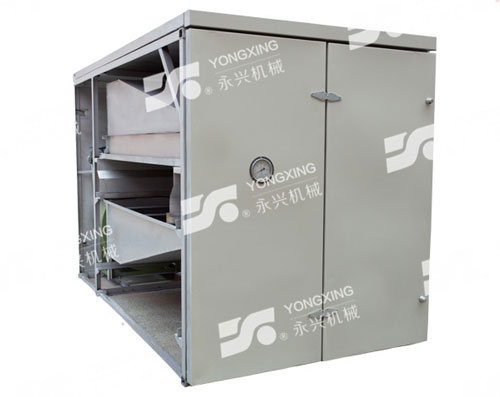 9. Baler
After crimping, the tows spread to chain board type conveying of Relaxing dryer. The tows are dried evenly by blowing of forced air and then cooled down below glass temperature. After dried, the tows are dragged to upper floor for cutting by Tension stand, which also guarantees the tows under tension evenness to feed Cutter in tangential direction of cutting reel. The tows are cut into fixing length of staple by adopting press cutting. After cutting, the cut fibers enter into baler chamber in gravity or through conveyor for baling, and then the bale is weighting, manual baling and labeling and then sent to the storage by fork lifter.