24 7月

(3,000T/Y-50,000T/Y) PET High Tenacity and Low Elongation Fiber Production Line

Recycled Polyester staple fiber is a synthetic man-made fiber made from PET/Polyester waste and post consumed PET bottles. It is used in Non-Woven carpets, wadding, filtration industries, as a polyfill for stuffing cushions, pillows, soft toys, quilts. It's also used for spinning yarns and making geotextiles. Hollow Polyester staple fiber gives good resilience properties and is used to make premium pillows, cushions and quilts. 

Recycling of PET/Polyester waste and used PET bottles is essential to maintain cleanliness of environment.
Process of Recycled Polyester Staple Fiber Production Line
Worldwide millions of PET bottle are consumed daily and thrown to trash. PET is also called polyester. Polyester is a synthetic polymer made of purified terephthalic acid (PTA) or its dimethyl ester dimethyl terephthalate (DMT) and monoethylene glycol (MEG). 
Since PET bottles are practically non bio-degradable, it was very difficult to dispose them. New technology was developed in Europe, Korea and finally China which helped in recycling this post consumed PET bottles to make man-made fibers like Recycled Polyester Staple Fiber. These fibers are then used to make non-woven carpet for auto-mobiles, making quilts, yarns, pillows etc. 
First bottles arrived in a factory, collected from trash, in bale form. These bales are opened and manually sorted to take out contaminations like iron, PVC, stones etc. Once cleared these PET bottles are crushed to make 12-15 mm flakes and are hot washed in chemical solution containing 2% solution of Sodium Hydroxide. This chemical helps in taking out glue from bottles and also cleaning them. The overall contaminations in PET flakes should not be more than 200 ppm. 
These flakes are then dried and taken to vacuum driers where surface moisture as well as inherent moisture is taken out and flakes become soft/crystallized & dried. Moisture held within the PET flakes it is known as inherent moisture. The Driers helps to reduce the inherent moisture to less than 200 PPM. 
These dried flakes are then taken to Extruder for spinning. Spinneret are available to make either hollow or solid PSF of varying denier (1.2Den -33Den). Filaments coming out of spinning are collected in cans or bobbins. This completes the spinning. Hollow and Solid PSF can be treated to make Siliconized, conjugated, polyfill, harsh, bouncy, anti-static, anti-fungal. In second step these cans are taken to Creel area where many cans or bobbins are combined to make tow and stretched several times in a chemical hot bath to make fiber. These fibers are then dried and relaxed in a relaxer and cut in various cut length before bale packing.
Specifications of Recycled Polyester Staple Fiber (PSF)
Denier Size: 0.9Den, 1.2Den,1.5Den, 3Den, 6Den, 10Den, 15Den, 18Den, 22Den, 25Den, 33Den
Cut length: 44, 51, 64, 76, 102 (As per customer requirement)
Feel: siliconised or non siliconised soft as well as harsh feel
Tensile strength: ≥5.7 gm/Denier
Elongation: 40 to 60%
Oil Pickup: minimum 0.20% to 0.35%
Crimps: 3 to 5 per cm
Shades: All shades available
Color Fastness: 4+
Quality: Hollow Conjugate Siliconised Fiber, Hollow Non-Conjugate Siliconised Fiber, Solid Fiber Siliconised/non Siliconised
Application of Polyester Staple Fiber (PSF)
Cushions – Pillows – Quilts – Toys – Jacket – Mattress – Non woven carpet – Automotive felts, speaker felts, geo textiles, polyfill wadding, filter fabrics and other acoustics as well. 
Case: 60TPD polyester staple fiber production line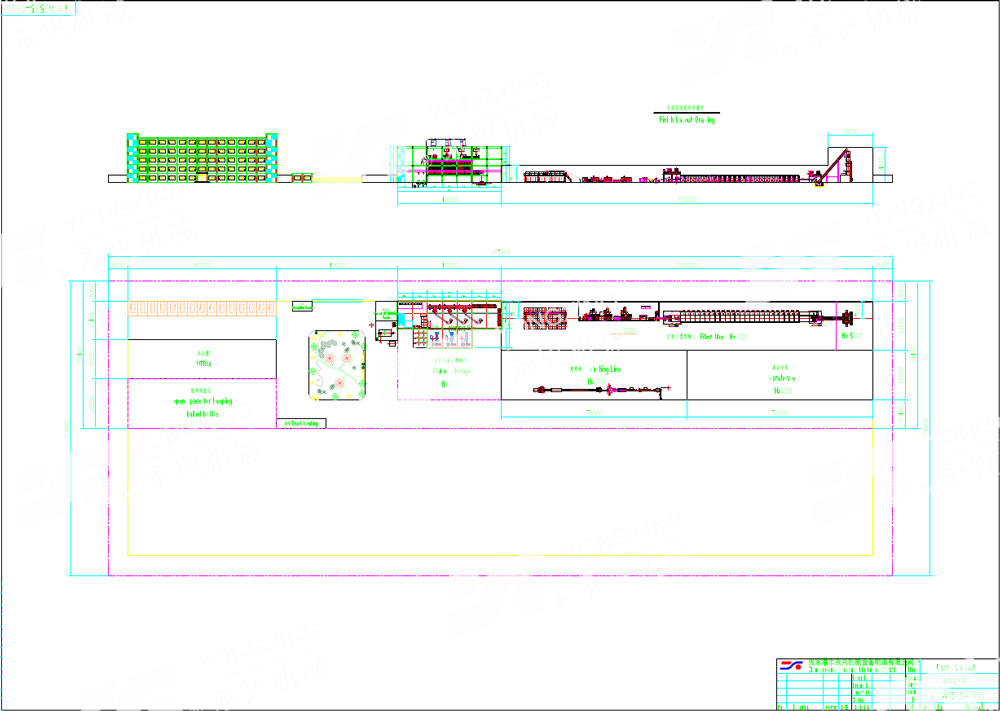 The Whole production line can be divided into two parts, spinning line and finishing line.
Main Machines of Spinning Line
In spinning line, PET bottle flakes are heated and dried, then melted and spun into tows.
1. Dry System
There are two kinds of dry system, one is vacuum dryer, and another one is PET flakes continuous crystallizing dryer.
Vacuum Dryer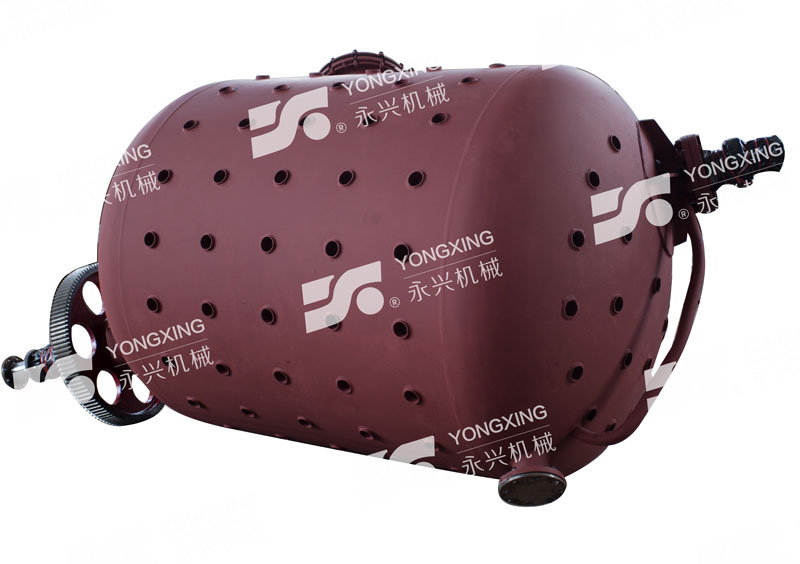 Specification of Vacuum Dryer
Model:VC357
Material:Inner shell touching material is stainless steel; out shell is Q235-B.
Driving power:5KW
Capacity of drum:Full capacity 7m3, effective capacity3.8m3
Rotating speed:9 r/min
Material load: Bottle flakes 1900Kg
Moisture content of bottle flakes: ≤4%
Moisture content of dried material:<01%
Drying time:according to technic
Heating media:Steam
Steam pressure:4Mpa (Max)
Working temperature:130~150℃ (Max)
Limit vacuum degree:3Pa
Outline:

Drum:5145×3005×3184
Dust-collecting barrel:фin600×1340
Cooling barrel:фin812×1520
Continuous crystallizing dryer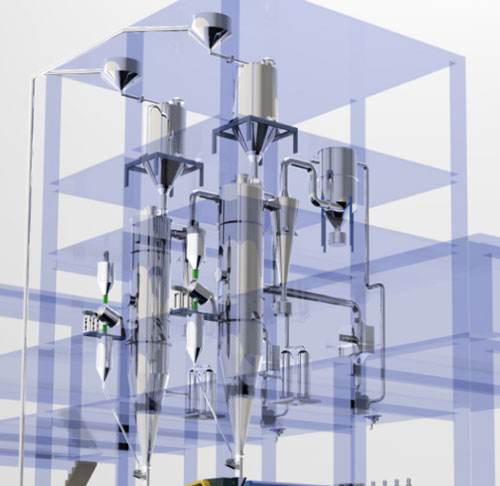 Specification of Continuous crystallizing dryer
Capacity of wet flakes Conveying System: 1 t/h
Capacity of Crystallizing/Drying System: 1000kg/h
Capacity of wet flakes Conveying System: 1t/h
Size of PET flake : 10-12mm, popcorn size : 10-12mm
Water Ratio of Wet flake: ≤ 2%
Water Ratio of Dry flakes: ≤0.0070%(70ppm)
Masterbatch dosing system
Optical agent dosing system
2. Extruder

PET bottle flakes are fed into screw extruder by meaning of melted, mixing and filtering from hopper after being heated and dried
Specification: φ160,φ179,φ180,φ190,φ220
3. Filter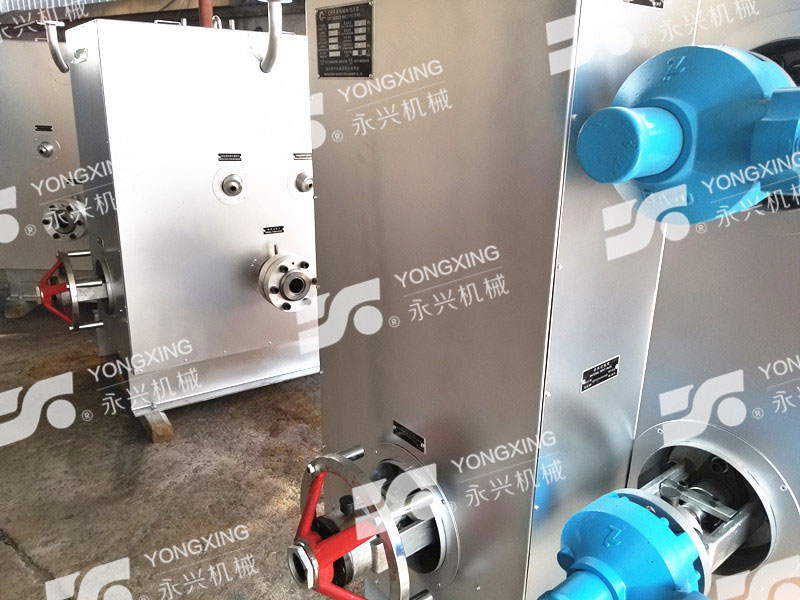 The melted PET will go through filter to remove the impurity, like PVC and other materials
Type: vertical, 2 groups of filtrating chambers, exchanging filtrating barrel continuously;。
Heating Power: 15kw;
Heating Media: Thermal oil. Melt inlet pipe increase static mixer, inner of melt pipe is polished. Melt pipe and spin beam is connected by flange.
Control: Use pressure≥25MPa, inlet pressure electronic indication, and automatic control. Indication precision: 0.1MPa. Self-control precision: 0.3MPa.
4. Spin Beam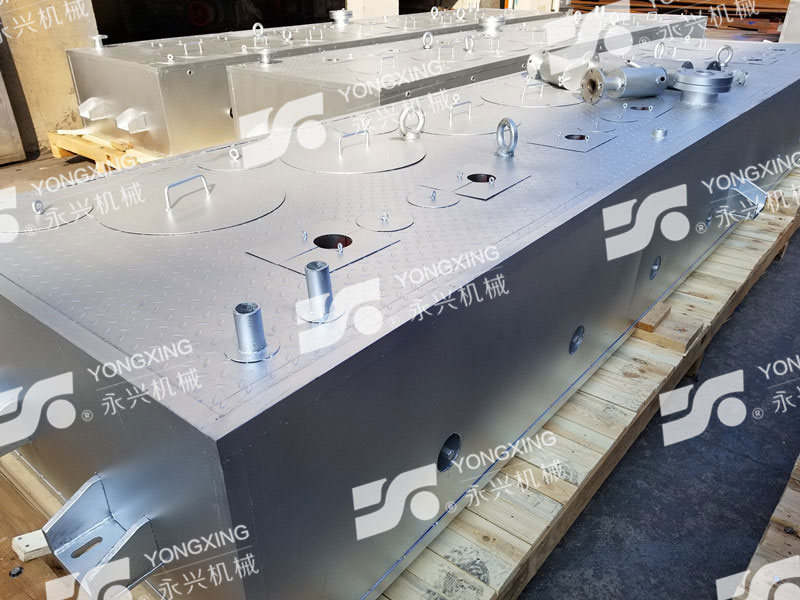 The melt goes into spin beam in which specially-designed distribution piping system guarantees same dwell time and same pressure drop for the melt to reach each spinning position.
Heating media:Thermal oil 330# or diphenyl heating.
Heating power:Electrical heat, heating power: 72kw (divided in three groups) spin beam use 14mm boiler steel plate, inner of pipe is polished. Spin beam body use tem-keeping cotton to keep heat. Out shell of side and bottom is 2mm stainless steel plate. Top uses 4mm thickness diamond plate. out face is aluminum paint;
5. Quenching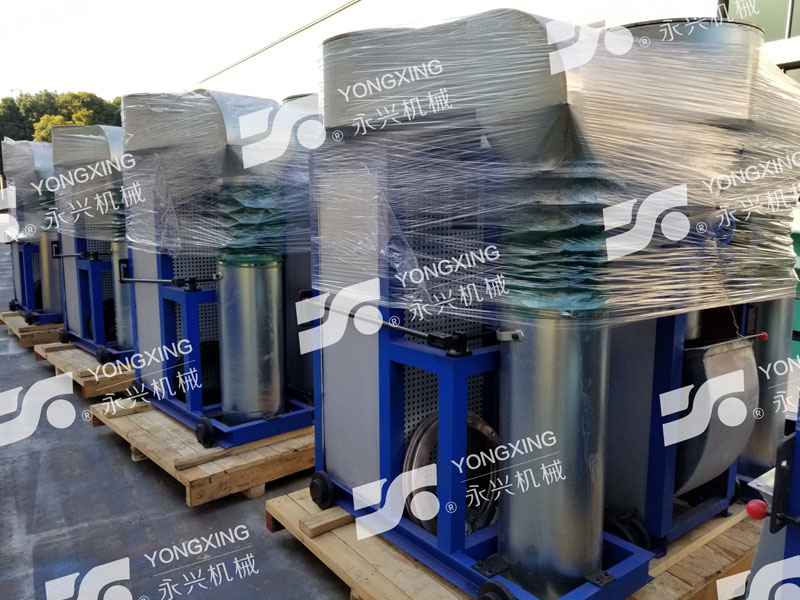 The melt becomes small stream after being extruded from micro-holes of spinneret and are cooled and solidified by air flow after passing through a low-damping quenching. The melt stream sprayed from spinneret become plastic shape monofilament in very short time and the structure is changed. This changing is mainly influenced by velocity evenness of air flow from quenching. Air temperature and velocity, control of air blowing gap and air flow steady under high velocity affect the direct factor of yarn quality. Therefore, it requires air flow from quenching with stability, uniformity and adjustability.
6. Winder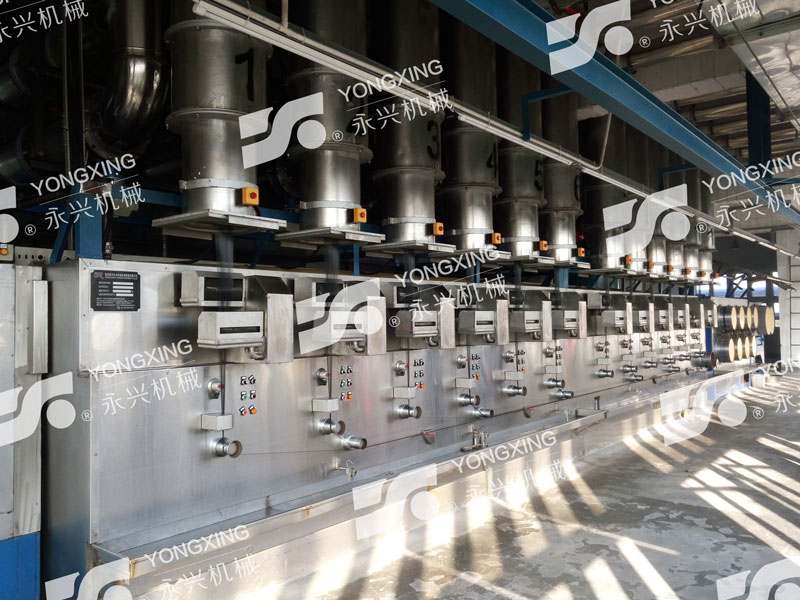 The cooled and solidified filaments are oiled and damped by oiling device to increase the cohesion of the yarn, to improve the antistatic property of the yarn, to reduce the friction between the yarn and the yarn, and also to reduce the friction between the yarn and equipment, and to improve the after-treatment property of the yarn.
7. Eight roller drafter and Sunflower Wheels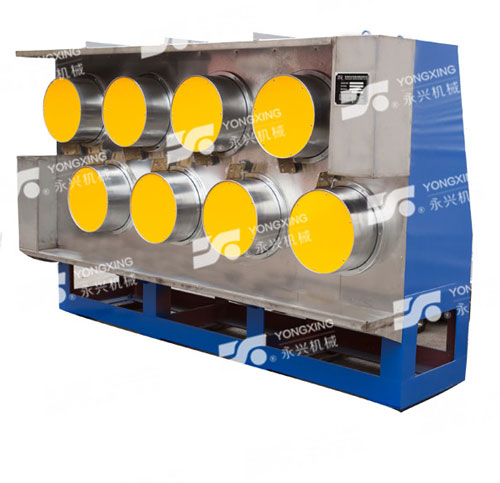 After passing through winder, the yarn from every position is guided by godet roller to the end of take up unit and is entered into drawing-off roller, then is fed into Tow Can by sunflower rollers. Six-roll drawing-off and sunflower wheels are driven by synchronous motor. The engaged depth of two sunflower rollers is adjustable. The drawing-off and sunflower rollers are with low speed set for yarn string-up and easy operation. Spinning and take-up system is set with collective communication system.
8. Can Traversing Unit

Can traversing unit is driven by A.C. motors, which realizes to transporting change of empty can, reciprocating movement of tow can and delivery of laden can. This unit has two kinds of control: manually (except reciprocating movement) and automatic. When tow can reaches certain weight by time setting, the programmable-control time counter gives off a signal, and then reciprocating mechanism automatically moves laden can to the center of the unit and delivering mechanism moves laden can out, in meanwhile, to move in empty can for continuous tow collection. Then the tow in can will be balanced and sent to after-treatment process.
Main machines of Fiber Line (Finishing Line)
1. Creel Stand
The tow creel is arranged for 4 rows, in which, two rows of them are put into using and the other two rows are preparing.
The tows from Tow creel are divided into 3 nos. sheets for drawing. The tow cable come from the creel is guided firstly by Tow guide frame and passed through dip bath in order to split tow sheets evenly with certain width and thickness, and ensure more even spin finish in tow sheets, and then start the drawing process.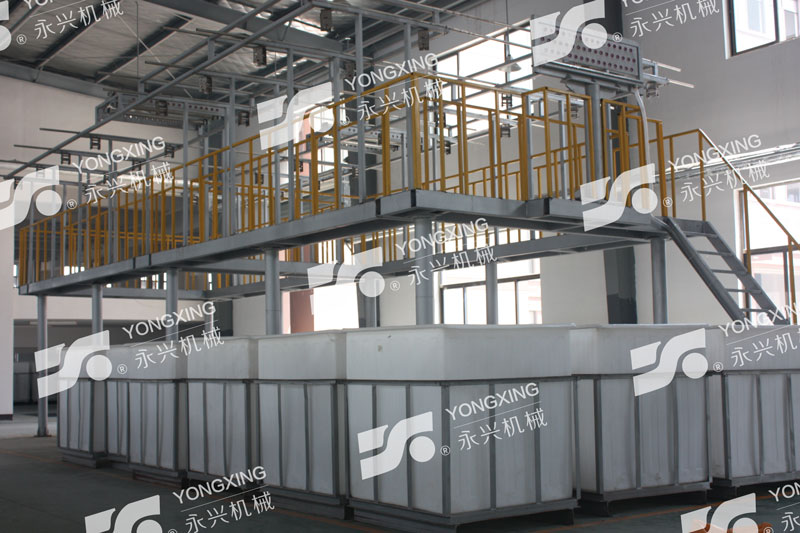 2. Stretcher
The range uses 2-stage drawing technology. The first drawing stage carries out between the first stretcher and the second stretcher. The temperature of Draw bath is about 60℃~80℃. The draft ratio of the first drawing stage is completed 80%~85%. The second drawing stage carries in Steam box chest between the second stretcher and the third stretcher. The draft ratio of the second drawing stage is completed 15%-20%.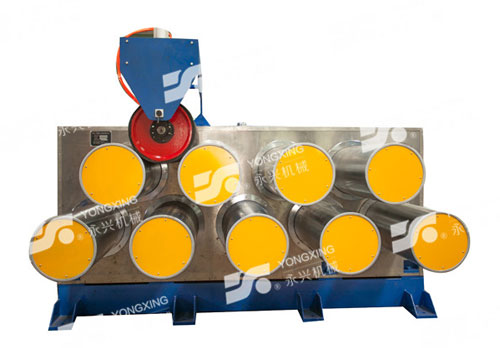 3. Annealer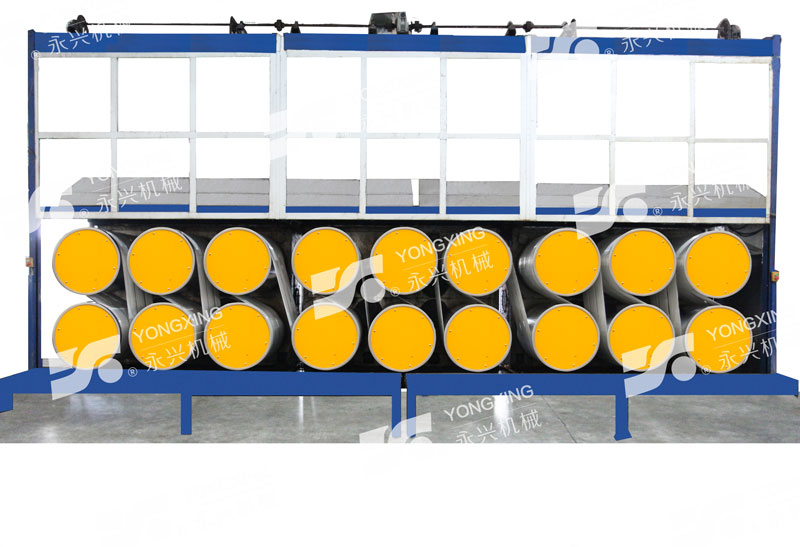 This machine is used to further drawing of the tows, and give a tensioning process of the tow under high temperature. The annealed function is achieved through the oil spray box by sudden cooling by the spray. The tenacity of the tow can be increased, and the elongation of the fiber can be reduced.
Application Scope: This machine can be applied for producing of fine denier fiber ranging under 1.5 D polyester solid fibers.
Design of the Annealer
Type: 15 rollers, cantilever style, 6 up and 9down design.
Main Parts: Setting Roller, Driving Box, Motor and gear box,Pipeline and Lubricating System.
Setting Roller: The Roller is in welded structure. The rotary joint is used for the entering of heating oil for heating or Setting Roller, and guarantees the sealing.
Dimension of Setting Roller: Φ820mm×1100mm (effective width).
Drive type: hard-surfaced gear drive, inverter controlled AC current motor, spring type shaft joint
Structure: 18 rollers are divided into 3 groups, 6 rollers each group.
Structure of the Drawing Box :
Gear Drive in closed condition, dividing into 3 groups. Front face of Drawing Box is covered by SS steel plate.
Lubrication Method: forced lubrication. It consist 3 lubrication groups, which have cooling & filtration functions.
Heating Media: High pressure steam.
Working temperature of machine: 160-180℃
Weight of the machine: around 80 tons
4. Stacker & Crimper
After cooled and oiled, the tow sheets are sent into Tow stacker, 2 or 3 tow sheets are stacked into 1 tow sheet. The tilt angle of stacking rollers is adjustable for achieving stacking process. The width of the tow sheet and the quality of stacking is special important for crimping.
After stacking, the tow sheet is sent into Crimper through Tension control roller and Steam pre-heating box. The tow sheet is crimped through squeezing to assure the good performances of fiber in later process.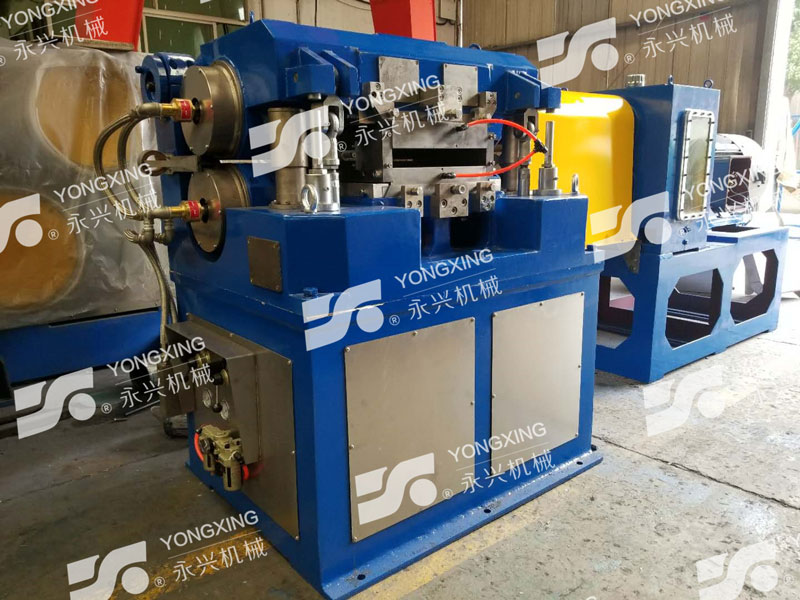 5. Relax and heating Setter
After crimping, the tows spread to chain board type conveying of Relaxing dryer. The tows are dried evenly by blowing of forced air and then cooled down below glass temperature.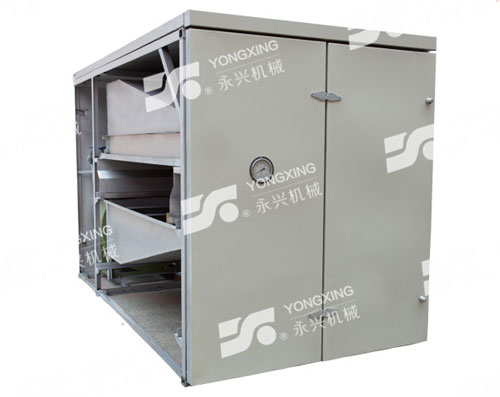 6. Baler
After crimping, the tows spread to chain board type conveying of Relaxing dryer. The tows are dried evenly by blowing of forced air and then cooled down below glass temperature. After dried, the tows are dragged to upper floor for cutting by Tension stand, which also guarantees the tows under tension evenness to feed Cutter in tangential direction of cutting reel. The tows are cut into fixing length of staple by adopting press cutting. After cutting, the cut fibers enter into baler chamber in gravity or through conveyor for baling, and then the bale is weighting, manual baling and labeling and then sent to the storage by fork lifter.